By Jes Ciacci, Alice Aguilar, Melanie E. L. Bush, Estrella Soria
Publicado por May First Movement Technology, under Creative Commons License Attribution-ShareAlike 4.0 International. (April 2023)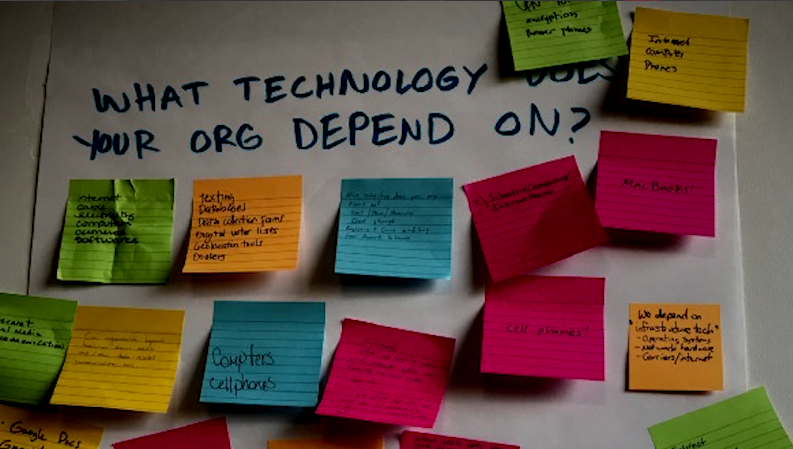 Why do we support autonomous technology? Over the summer, four May First board members interviewed over a dozen May First member organizations to learn more about how our movement interacts with technology, how our use of technology aligns (or mis-aligns) with our values, and to ask: How could we design technologies in a consensual way, in order to support both people and our planet? The result is a thoughtful and insightful article that explores our relationship with technology and the role that May First plays in that relationship.
Introduction
What role do the technologies that we use everyday play in our lives? How and why should we get to know them, choose among them, encounter each other through them? Technologies have been with us
from the dawn of time, supporting us in our daily activities. For the great majority of people today, to speak about technology refersalmost exclusively to technology of a digital nature. Or, more precisely, to a very small number of digital technologies; those offered by huge transnational corporations. With them come new communications and research horizons, but also the imposition of values, wishes, epistemology and interests distant from those that use them. What would it mean to be able to create, build and maintain technologies that listen to those that use them? What would it mean to have infrastructure for political movements deeply rooted in their communities and committed to social justice? How could we design technologies in a consensual way, in order to support both people and our planet?
Resisting in the digital environment implies focusing on other values, intentions, dreams, hopes and technologies. Focusing on other ways to live, to be and to know. May First Movement Technology is a
bi-national cooperative (based in the United States and Mexico) that aims to put these values into practice: digital media that supports social struggles and grassroots movements working to create the
other world that we know is possible. It does so by maintaining our own technological infrastructure and helping expose the limitations of the services that we normally use in our digital lives. We are also
working on building a shared political perspective among those that use these technologies on a daily basis. We can make technology work for us and make collective decisions on how it functions now
and in the future. We can learn from it, create alliances, listen to each other from our own experiences and jointly walk through the multiple forms in which our hopes manifest.
In this article we will look into the different ways in which we strengthen this path of digitalempowerment. It will include our membership and their role, participation and leadership, perspectives and political
education, trust and security in the digital world. The voices that we bring to you will help weave our day to day offline and online practices in order to bring about our hopes of more inclusive environments.