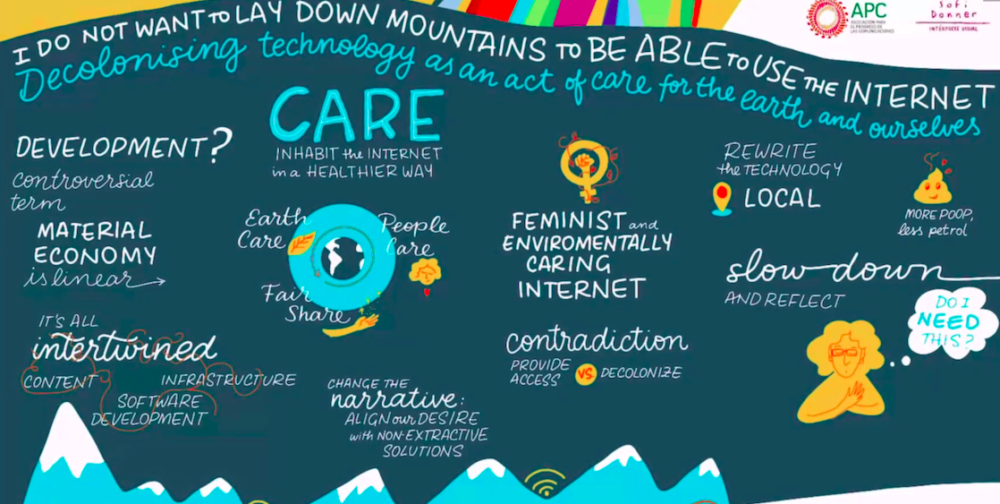 At the 2020 Internet Governance Forum (IGF), APC and Sursiendo co-hosted a Day 0 event called "Environmental justice and an anti-extractive internet: Impacting policy through developing a feminist principle".
This interactive workshop explore and consult on ways to create a feminist principle for an anti-extractive internet and what this means for policy advocacy in internet governance spaces. Building on the collaborative work of the 17 existing Feminist Principles of the internet (FPI) and the HackFeminist convening on FPI's, extractives and environmental justice held in Mexico, July 2019, we present the background and the draft principle on the environment and invite participants to share their wisdom and experience to craft an 18th principle.
The FPIs www.feministinternet.org are a series of collaboratively drafted statements that offer a gender and sexual rights lens on critical internet-related rights. The aim is to provide a framework for women's movements to articulate and explore issues related to technology.
The growing impact and related physical and psychic violence on people, species and the land of extractivism by internet industries impacts deeply on internet-related rights. Capitalist discourses promote individualism and exploitation of people and natural commons in the development of the devices, tools and infrastructure that drive the internet.
Amid COVID-19 related chaos, what we are looking for is to hold a space that forge possibilities of retrospective and forward-looking collective thinking on how the feminist imagination of the digital can re-signify and expand the core feminist principles of ethics of care into the conversations that focuses on the environment.
Speakers: la_jes of Sursiendo, Courtney Morgan of South African Climate Justice Charter Movement and Paz Pena – gato.earth.
Facilitator: Jennifer Radloff, APC Women's Rights Programme
Image: APC