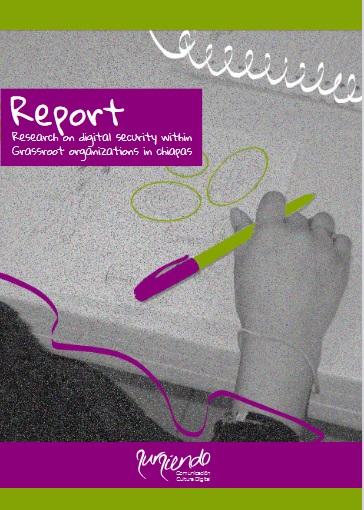 This report tells the story of one of our journeys during 2018 as Sursiendo: living between the local and digital realm, we unpacked a research project-process that assessed digital security within grassroot organizations in Chiapas.
According to Lori Lewis and Chadd Callahan's study (Desjardins, 2018), based on data from May 2018, per hour, more than 10.000 million emails are sent, 22 million apps are downloaded and 222 million searches are requested.
In Mexico, more than 65% of the population is online, as reported by Internet World Stats (2018). Today, Internet is crucial in understanding how our societies operate. Internet is present in nearly all social, political, economical and cultural spheres in Mexico and in the whole world. To be online is very important to most people. Also for human rights activism.
But beyond numbers, we believe in focusing on the people, the «whom», the «how» and the «what». How we use and relate to each other through Internet, through what devices and programs. What is at risk when we are online.
We like to think of Internet as a territory, «like the lived and heartfelt space embedded in our day-today», as Arturo Escobar (2010) defines it; territory as a setting of social relationships. This is why we perceive Internet as a social construct and our understanding of it implies grasping how it is produced and 'inhabited'.
But this territory, like many others, is threatened by neoliberalism, through surveillance and control,
criminalization, deprivation/dispossession, (personal) data marketing and a lack of ethics. Internet is a disputed territory. In this sense, during 2018, we decided to perform a research related to part of this dispute: digital security in grassroot organizations of Chiapas, aiming to assess what was happening in the region.
In Mexico, digital security is at stake for organizations, activists and human right defenders, as we have seen with the deployment of State surveillance, the cases of Galileo (developed by Hacking Team) and Pegasus (by NSO Group) spy software, along with criminalization and censorship. Public institutions, technology corporations and organized crime put at risk the safety of defense and accompaniment work towards collective processes.
Our proposal was to perform assessment, based on popular education and participatory dynamics: workshops, questionnaires, interviews and online information sheets. We plunged into the participants contexts, analyzed all this information and, finally, returned it back to the groups in a way that could help them improve their practices related to digital technologies standing on a solid foundation they could unfold in a long-term accompaniment.
But, what is digital security? In some cases, it is defined as computer infrastructure protection and everything related to this and, specially, information contained in a computer or flowing through computer networks; in others, it is defined as the practices and tools that we use as users to protect our devices, information and digital interactions. Both definitions describe realities, but, in Sursiendo, we prefer to frame 'digital security' as digital self-defense and self-care practices that seek to improve our 'digital lives' in a (long) journey towards technological sovereignty.
Or, as some members of the organizations we worked with described: «a series of habits, tools that one uses in their daily lives in order to protect information/data» or «the possibility to move around in cyberspace/Internet without being at risk, at least not at risk if we haven't chosen to be; neither me, neither the people that surround me, neither whom I work with».
We consider the concept 'security', in itself, tricky and it has led to the state of surveillance in which we are immersed today. It is impossible to be 100% 'safe and secure', but we can take measures to look after our digital interactions and, in consequence, look after our work as defenders and activists. However, due to the fact that the concept of 'digital security' is now generally used to talk about these topics, we will adopt it during the whole report.
This assessment process followed eight organizations in Chiapas that work in different areas: human rights, migration, womens' rights, land and territory rights, accompanying grassroot groups, communities (rural and/or indigenous) that resist against the "development extractivist model" and sustain alternatives. In order to ensure confidentiality and protect their work, we do not mention their names in this report.

In the following pages, we synthesize what has happened in terms of digital security in Mexico and Chiapas, what findings have come up in the research and what needs and challenges emerge.
We would like to thank the organizations for their participation and trust in this journey that still unravels. Also to the Human Rights Center Fray Bartolomé de las Casas (Frayba), that has shared their experience and Paola Ricaurte for her contributions to this report.